The SARS-CoV-2 antigen quantitative assay kit (enzyme-linked immunoassay) independently developed and produced by Biohit Healthcare (Hefei) Co., Ltd. passed the EU CE certification on June 12th and was approved by Brazil ANVISA on August 31st.This is also the world's first novel coronavirus blood antigen quantitative test kit approved by the government.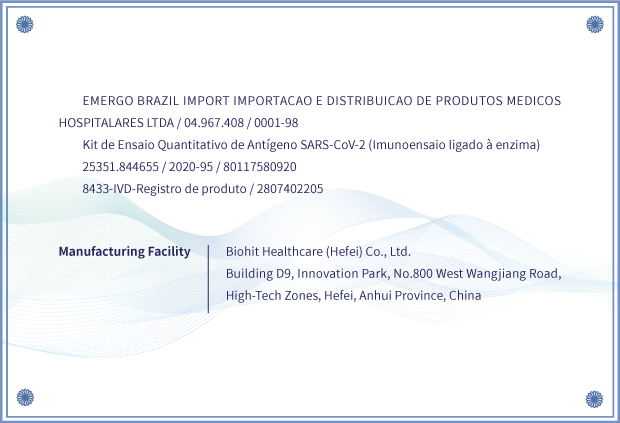 The advantages of quantitative blood antigen testing are:
1.The result of quantitative blood test can represent the viral load, and because the sample source is stable, the test result can indicate the status ofinfection.
2.The content of antigen and antibody in serum is inversely related. Combineddetection of antigen and antibody in blood can verify each other at different stages, providing complete serological evidence for the diagnosis of COVID-19.
3.The SARS-CoV-2 antigen quantitative assay kit (enzyme-linked immunoassay) has a sensitivity of 95% and a specificity of 100%.
In a recent article on blood antigens in COVID-19 patients published by Harvard University Medical School, it also proved that compared with viral RNA, the measurement of blood viral antigens and immunoglobulins can provide more accurate and timely indicators of disease progression and recovery. It can avoid the false positive and false negative problems of nucleic acid testing, which is a new standard for the diagnosis and treatment of the novel coronavirus.(Serial Profiling of SARS-CoV-2 Antigens and Antibodies in COVID-19 Patient Plasma)
In order to serve the needs of rapid detection, the company's rapid antigen detection products will also be launched soon, providing new solutions for the diagnosis and prevention of new crowns.